Most of us have voices chattering in our heads.  These are not hallucinations.  They are running commentaries–one of the most familiar is the inner critic.   He or she says things to us like: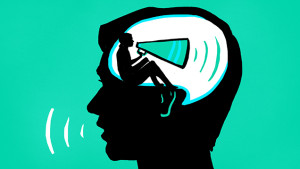 "How could you be so stupid."
"You're so fat."
"Wrong again."
"You'll never be any good."
I was sitting in a circle with other writers at a workshop when one of the women lamented that she was stuck in her writing because she had an ogre who sat on her shoulder and babbled criticism and worries in her ear.  I jotted a note  to myself:  Tell Jenny about stowaways."
What is stowaway?
In real life a stowaway is someone who boards a vehicle, vessel, or other mode of transportation secretly and undetected.  I like the term and use it often when I'm working with a client on the inner critic.   When she talks about the harsh and critical voice she hears, I ask her if she would say the same thing to someone she loves.  Most often she wouldn't–EVER!  That's the litmus test for whether the voice belongs to her or whether the voice is actually a stowaway–a voice that belongs to someone else who sneaked in.
If you heard something often enough growing up, it seeped into the psyche..Over time it began to feel like your own voice and you lost track of where it came from.  Over the years of practice, I've found this to be a really dangerous, insidious process.  It's sort of like psychic cancer–where the immune system doesn't recognize something as foreign.  The mind doesn't recognize the stowaway voice as not belonging to me.
What to do about it?
To correct the situation you need to start paying close attention.  You don't need to do anything, in fact, it's better if you don't.  What is important to do is to be diligent to notice, tag, name these words/feelings/thoughts as "not me."  Over time as they become differentiated, things change–a lot.  You will be differentiating what is actually me from what is not-me.  The not-me will begin to quiet down as deep inside you begin to be more aware of those unwelcome stowaways.